Piloting new ways to embed sustainability in organizational culture

WHAT
Fostering sustainability across UNICEF headquarters and country offices worldwide is one of the goals of the Eco-efficiency team at UNICEF New York Headquarters. I joined the team to help frame, research, strategize, design and test solutions to build a culture of sustainability using a bottom's up approach. During my tenure, I supported multiple projects—from conducting usability testing on a global eco-efficiency audit software tool; and developing a cohesive communication & campaign strategy; to leading design research, ideation workshops and design deliverables & resource toolkits for various interventions.

WHY
Good health and wellbeing, clean water and sanitation, sustainable cities and communities, climate action, and responsible consumption & production are among the United Nations' Sustainable Development Goals. In pursuit of the SDGs, it is even more important to walk the talk at UNICEF and set a precedent for other workplaces in embedding sustainability within employee culture.


WHEN

2018

ROLE

DESIGN RESEARCH

SYSTEMS THINKING

COMMUNICATION DESIGN

TEAM

CHHAVI JAIN

HEIDY MARTINEZ

MICHELLE SHEU

SUCHITRA SUGAR

WILLIAM A. ABDALLAH
OUTCOME
-
The Campaign

---
The Say Yes to Less campaign was conceived as an umbrella initiative to push sustainability efforts internally. Apart from the campaign and communication strategy, I also designed a series of communication material, visual probes and signage for the office interiors, along with toolkits and strategies to also assist teams in country offices lead change and transition to eco-efficiency.
I also helped organize events at the annual Green Fair held at the United Nations.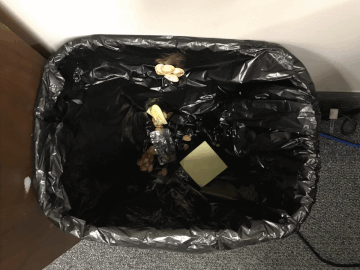 To supplement the campaign and influence concrete, measurable change, I also planned and conducted user-research to understand behaviors and ideate around ways to increase recycling and reduce everyday trash. The campaign collateral—the computer lockscreens, posters and other online and offline internal communication reinforced mindfulness around positive actions such as the use of reusable water bottles and coffee cups. However, there existed a broader need for the overall office to adopt sustainable practices when it came to managing their everyday trash.

I conducted semi-structured interviews with 20 employees across departments. Observed contents of the trash bins by the desks, in the office pantry and copy room, at the end of each work day for a week (the trash bin assessment/visual ethnography was done for one floor at the NYHQ, a total of 75 trash bins per day).

Colleagues at UNICEF were open and willing to adopt sustainability in everyday operations and life at the office. However, the convenience of quick access to a trash bin by their desks often came to be blamed for not being able to be more mindful about separating trash. The desk trash bins were meant to dispose of dry unsoiled paper for recycling, and nothing else. This was often misunderstood and we found a majority of trash bins contained mixed trash from food waste, to aluminium beverage cans to tea bags mixed with sheets of paper.
To add to the problem of mixed trash not getting recycled, the cleaning staff at the office was instructed to change each and every used trash bin's liner everyday. This meant more plastic waste in the form of the liners.
We conducted a workshop with a focus group to ideate solutions. Some of the ideas that we came up with and considered were—(1)
Eliminate bins from all individual desks and have the staff use the three centralized bins - trash, paper, glass, located in the pantry/copy room of the floor. (2) Campaign to encourage staff to bring and use their own mini trash bin for their workspace, to instil more mindfulness on waste management. (3)
Have each cubicle area (enclosure of four cubicles) share one medium-sized trash bin. (4) Identifying and incentivising 'recycling heroes', employees who can inspire others to adopt sustainability. After voting on these ideas, we decided to pilot the first idea for implementation.
Prior to the pilot—Details of the idea were communicated through emails, town hall meetings and intranet articles prior to the launch, outlining the benefits and explaining how this system also matches with NYC's recycling requirements. Next, a baseline was created for the rate of recycling on the floors that were participating in the pilot, also noting the amount of plastic liners used, time spent by cleaners, the perception and readiness of both cleaners and office employees about the current system, recycling and the proposed changes.
IMPACT
Recycling increased by about 20% in the first week of the pilot. The use of plastic bin liners was significantly reduced, the cost also came down—less time spent by cleaners emptying the bins and changing bags, fewer bins being replaced and fewer plastic bags. Employees felt encouraged to stand up from their desks and take micro-breaks, while walking to the trash bin to dispose of their trash while effectively separating it. Few employees also noted that this could result in possible reduction in pests in the long run.
-
The Environmental Footprint and Accessibility Audit Software Tool

---
I also conducted usability testing, both remote and in-person for a prototype of a software that UNICEF had commissioned externally, to help country offices document and report data around various parameters of environmental footprint and accessibility, like energy and water use, energy and water source, number of employees using public transport, presence of elevators and wheelchair ramps in the office building, presence of energy efficient fixtures etc.
Data gathered through testing sessions facilitated by me helped streamline units of data entry based on the metric system followed by each country. Even though the software was well-designed, testing helped close the feedback loop with the end users. This input also helped flesh-out the 'Help' section on the software to detail out and add to the FAQs.