The New School Collaboratory
Enhancing the The New School's capacity for socially-engaged learning and scholarship by rebuilding a knowledge hub


WHAT
The Collaboratory is a New School university-wide initiative to support and create a community of people interested in socially-engaged learning, scholarship and practice. Online, The Collaboratory's Knowledge Hub serves as a resource platform and digital archive for socially engaged work within The New school. Offline, The Collaboratory comes together through project-based work, events and workshops. Among the core challenges that I tackled as the Web Product Manager on the team was how the digital platform might serve and deliver value to a diverse community of scholars and practitioners.



WHEN

2018

ROLE

USER RESEARCH

DESIGN STRATEGY

UX DESIGN

TEAM

CHHAVI JAIN

MASOOM MOITRA

MICHELE KAHANE

ZACHARY ROSEN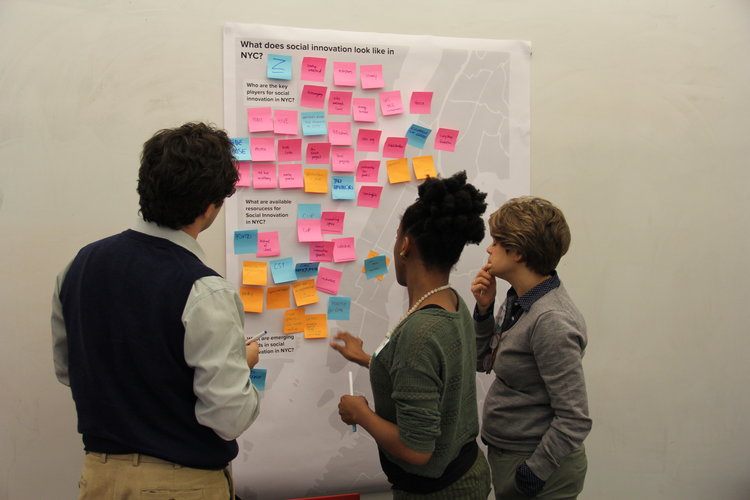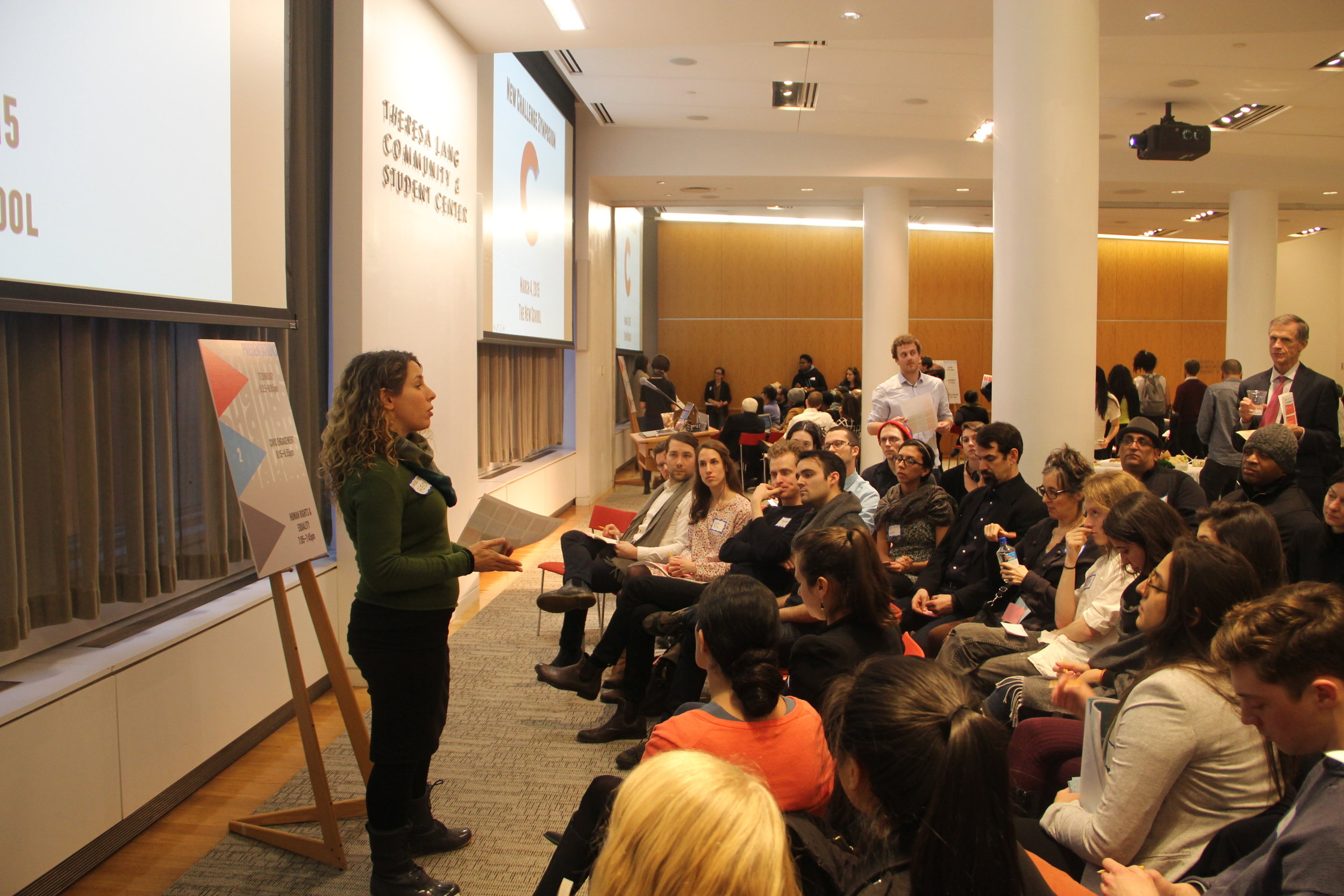 HOW
The pre-existing platform was a beta site constructed on Squarespace with various platform-based inherent shortcomings on both the content and design fronts. Overall, there was also a lack of understanding about different user groups and their goals & expectations from the online platform.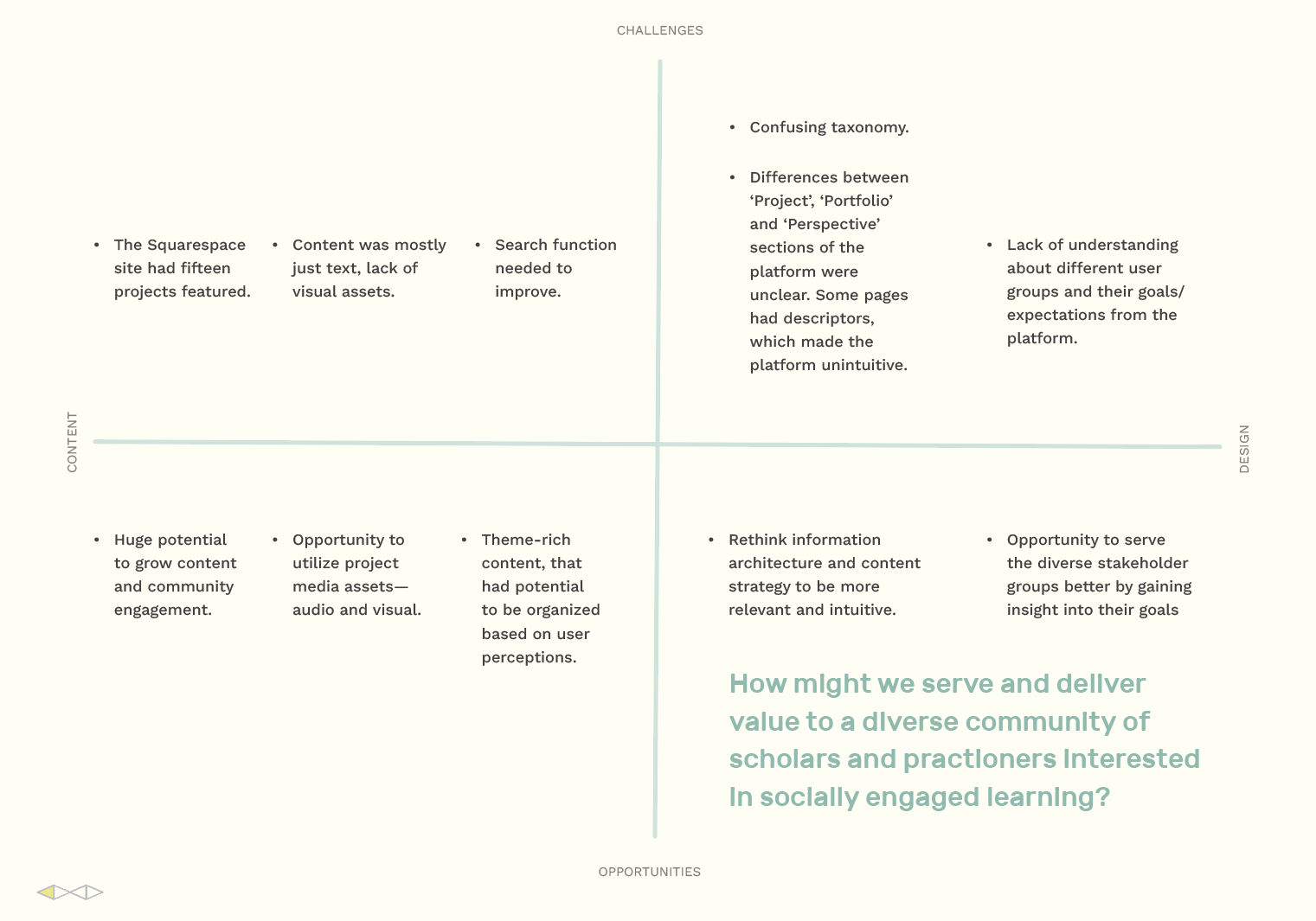 As part of the core team, I helped create the project work plan as well as the research plan. I also conducted various research activities.
Content + Product Research—Audit other New School digital properties; Internal and external landscape analysis; Content audit


Organizational + Audience Research—Semi-structured interviews with 7 faculty, 25 students and 3 partner organizations; Usability Testing to evaluate the existing platform; Card sorting to rethink the information architecture.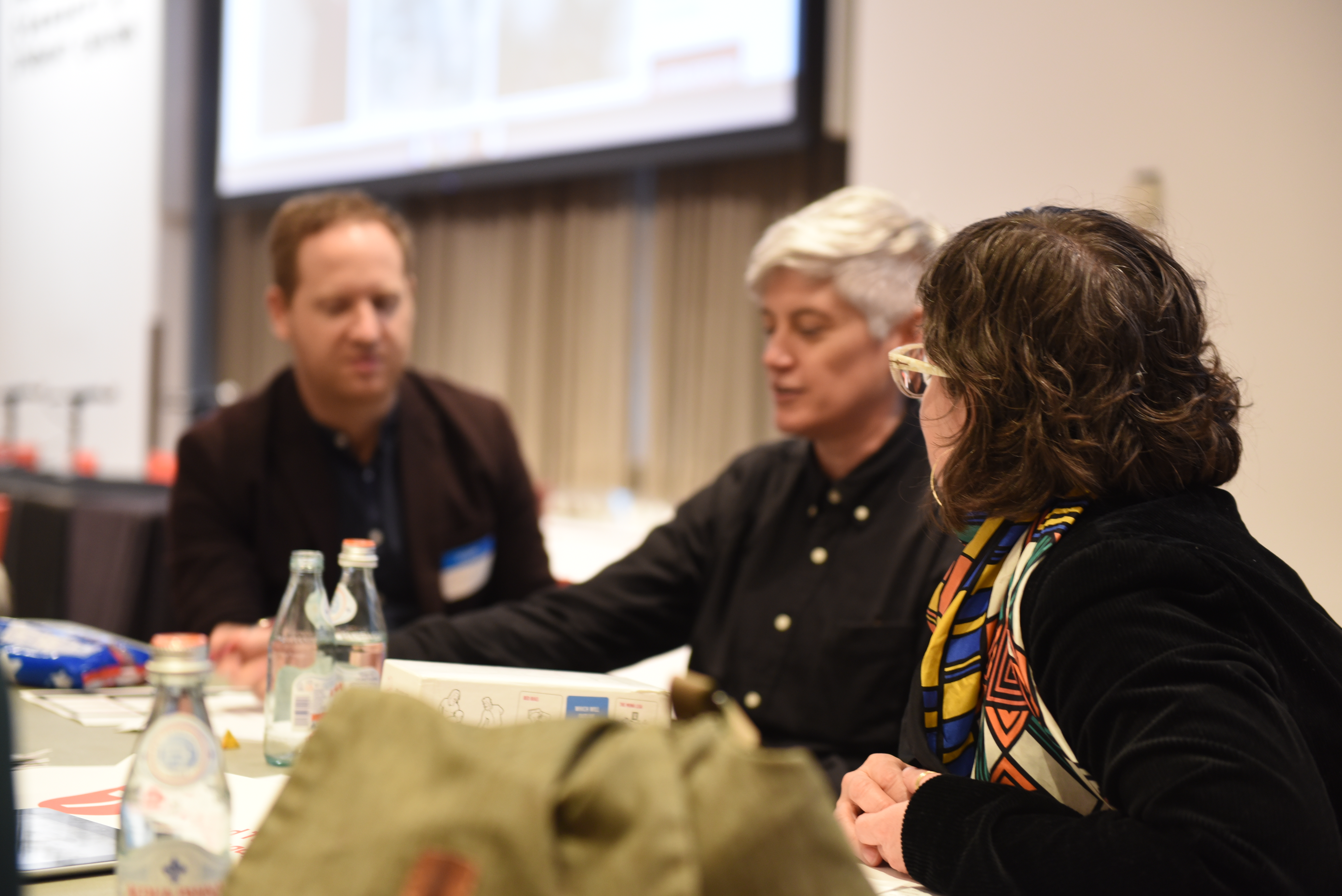 SYNTHESIS
Learnings from the interviews with the three key user groups—the faculty, students and partner organizations were distilled and translated into the following goals, needs and aspirations persona framework. These insights formed the basis for the ideation of new design concepts.
PROTOTYPING AND TESTING
Using a lean and iterative approach, various wireframes were designed and A/B tested for different sections of the platform with the simple north star / design criteria that the platform will bridge the gap in communication, knowledge dissemination and collaboration across the diverse stakeholder groups; and that it will strive to converge their goals, offering a streamlined experience.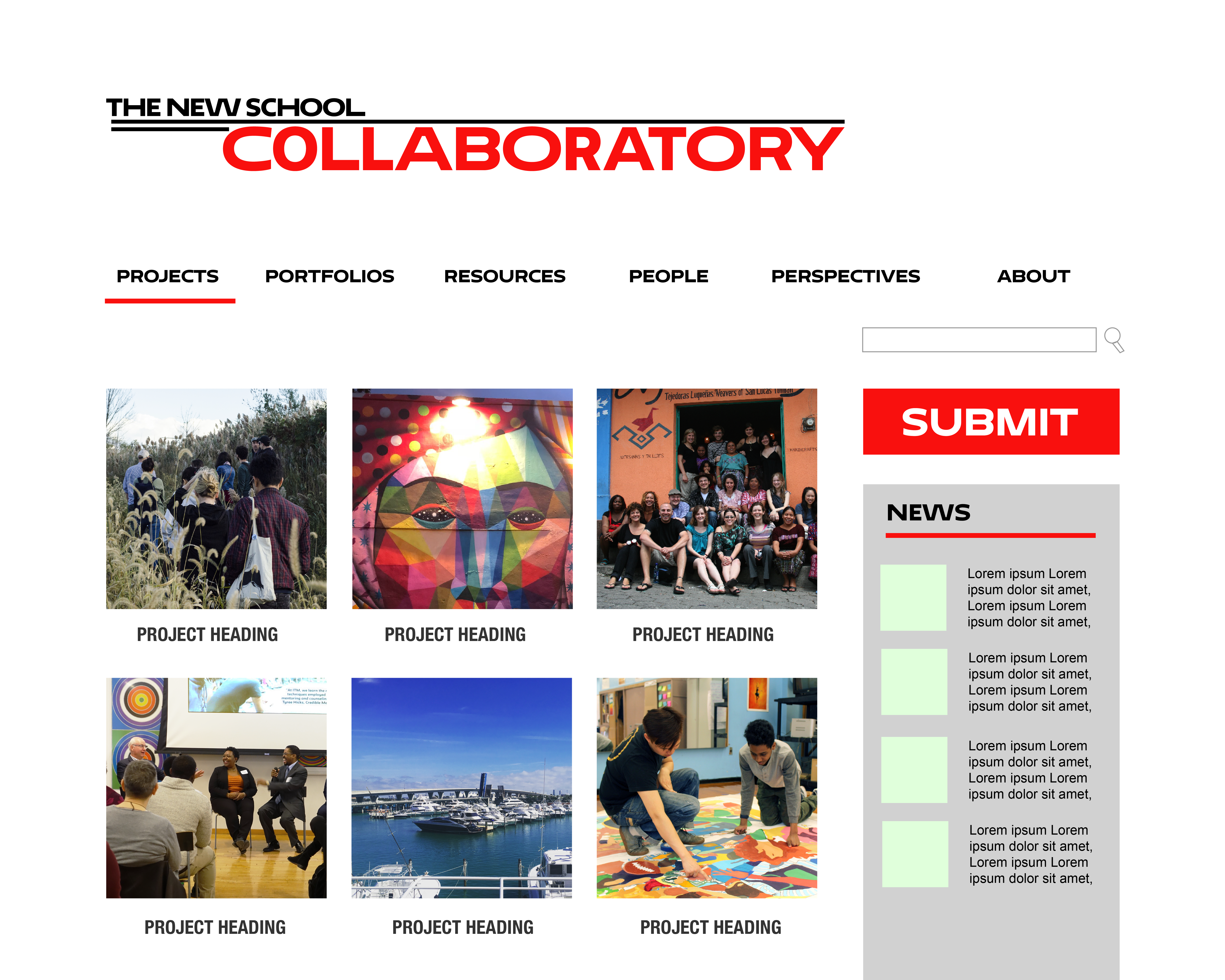 Prototypes were tested and evaluated for—content's usability, findability, whether the platform is meeting users' goals, and qualitatively, whether the content on the platform is meeting users' expectations.
The platform's information architecture and content strategy was rebuilt directly using insights from the evaluative research sessions and card sorting activities.
OUTCOME
The redesigned online platform was built to meet the needs of various user groups, incorporating the learnings from the research and prototyping activities. Content was also tagged with appropriate search filters that kept in mind the broad range of filters for each content category, for instance, users were able to filter through projects by focus area or theme tags, similarly, the Collaborate or the People section allowed users to look up people in the New School network by whether they're a partner, faculty, student or alumni. The site's overall navigation was modeled around action verbs highlighting the platform's capabilities upfront. We also included a 'Submissions' button in the top navigation bar in order to encourage users to not only browse projects, but also contribute to the knowledge hub.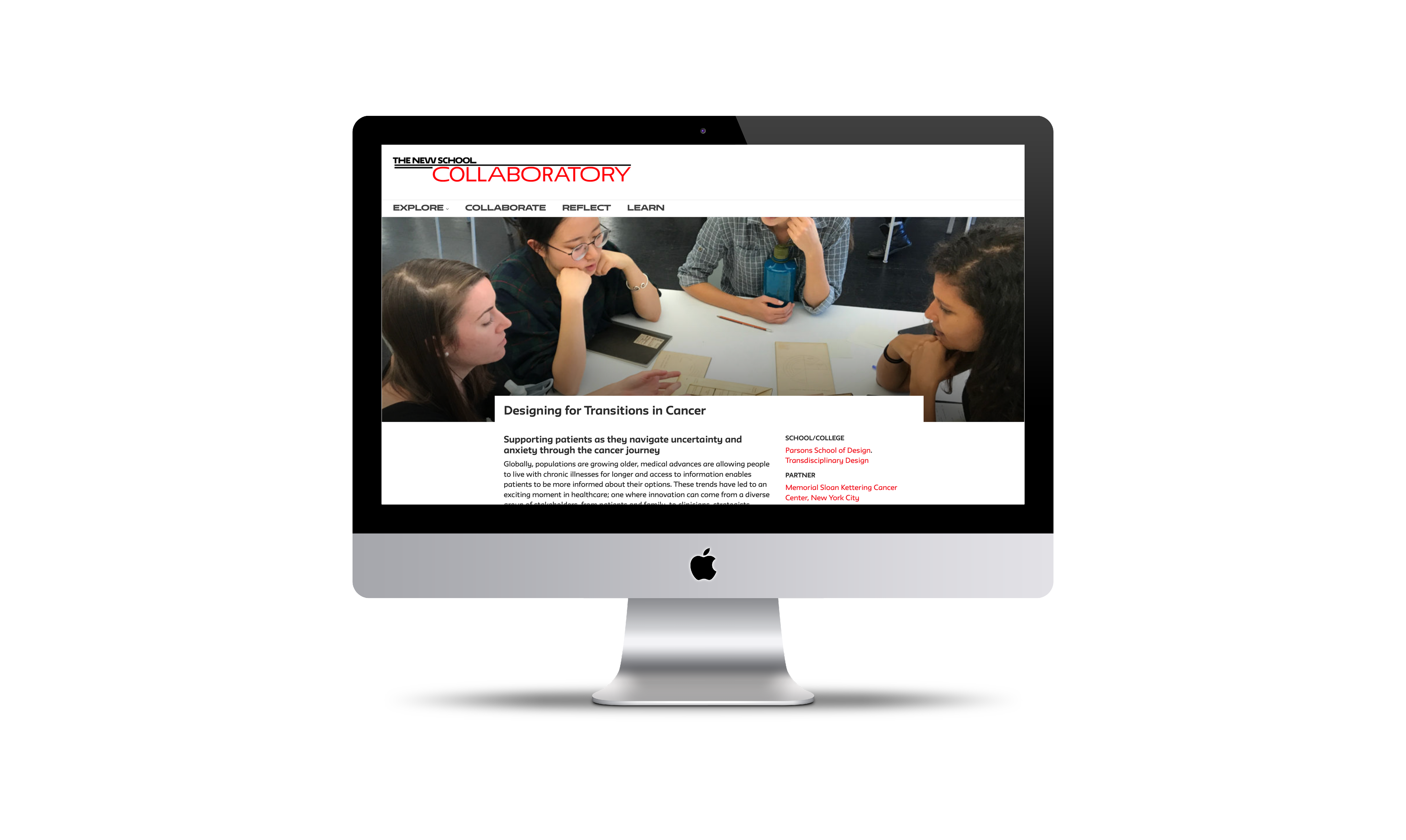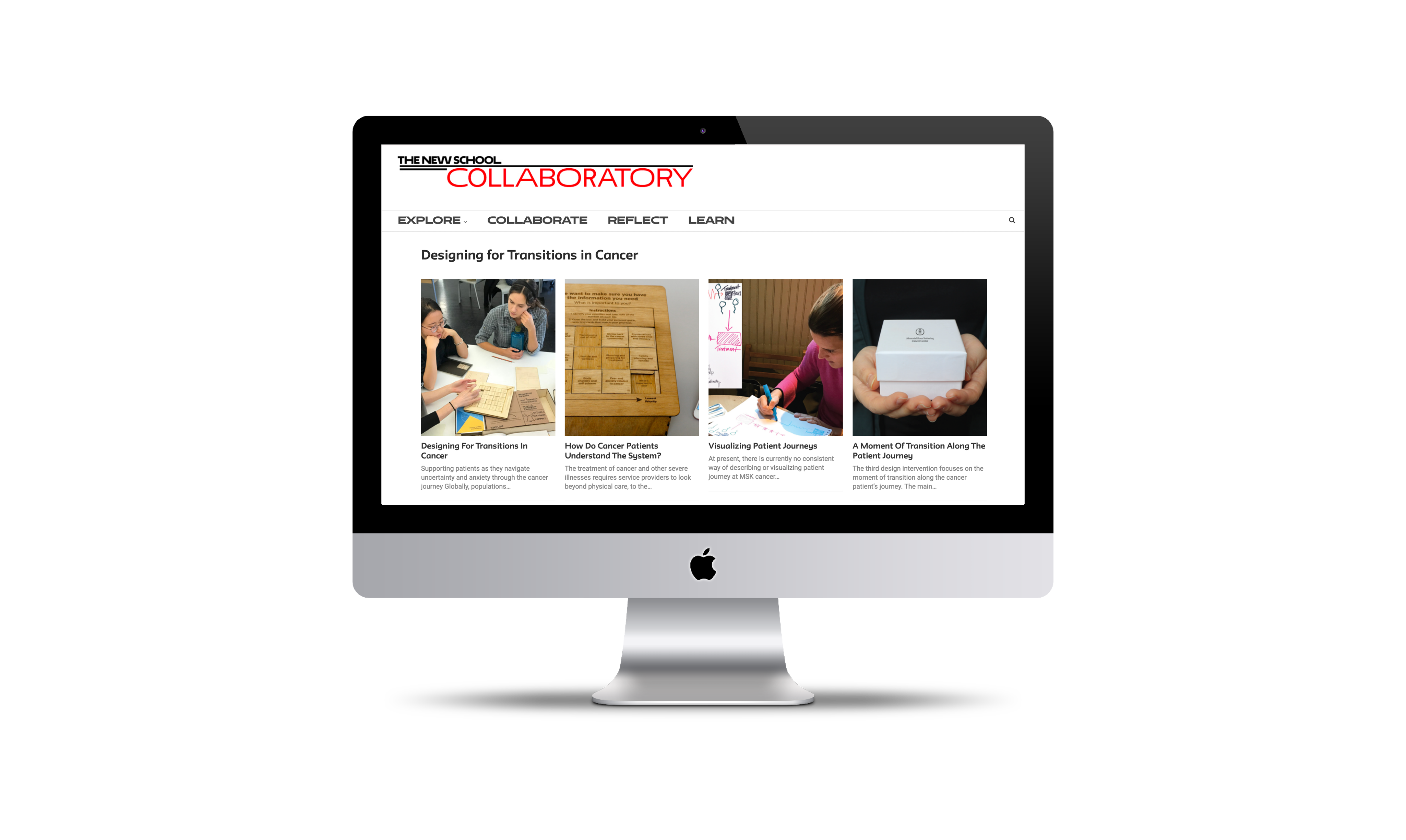 The work featured on the Collaboratory platform grew during and post the design process, from fourteen to nearly fifty projects in one year during my engagement with The New School.
I also had an opportunity to wear my Service Designer hat and work with the Collaboratory leadership and advisory team in order to build out the Collaboratory brand and translate the online experience and values by creating space for the community of practitioners to come together in real life, by planning and organizing various events. I also created the visual identity and collateral for the Collaboratory's flagship Symposium event.